27 Jan

S.H.A.R.P. Goals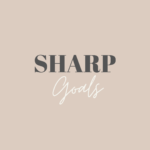 Every January, we have before us a new year, which usually means a new list of goals.  Many of us are familiar with S.M.A.R.T. goals – specific, measurable, attainable, relevant and time-bound. Today, I  would like to introduce another option – S.H.A.R.P. goals.
Spirit-inspired –  In the last post, I spoke about seeking first the kingdom of God and His righteousness and this falls right in line with that. Our goals should be driven by God's will for our lives. What is He telling us to do? What has He put on our hearts to pursue?
Healthy – Our  goals should promote our personal physical, mental and emotional well being. That may mean exercising more, eating right, getting more rest, etc. Whatever you need to do to improve your health, do it. It won't be easy, but it is well worth it.
Achievable –  So this one is referring to realistically achievable AND supernaturally achievable. Yes, be realistic with your goals, but know that with God anything is possible. Don't restrict yourself to your capabilities and your power, but broaden your vision to God's capabilities and His power.
Relationship-focused –  God created us for fellowship. What are you doing to nourish the relationships in your life? What can you do to build up your spouse? What can you do to encourage your children? When is the last time you reached out to family members and friends?
Purpose-driven – We all have a God-given purpose for our lives. If you have not identified your purpose, I encourage you to ask God to reveal it to you and then do what you can to align with that. If you know your purpose, ensure that your daily to do lists and what you are prioritizing aligns with that purpose.
When you have S.H.A.R.P. goals you are laser-focused on what God has designed for your life. You can rest in the assurance that you are achieving the goals that are God-ordained and have His seal of approval. Make it a great 2021!