31 May

Admire the View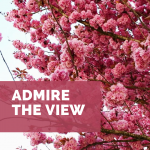 They say that "April showers bring May flowers" so we are now in the season when all is in bloom. Take a look outside. The trees are fuller, the grass is greener and yes, those flowers are in full bloom and in living color. It is time to admire the view.
Flash back to earlier this year.  You created your list of goals or maybe you went all out and put together a beautiful vision board. Whichever way you chose to proclaim it, the intent was the same – to work towards an end goal. You wanted something to "bloom" in your life. You wanted to work out more and eat better so you could be healthy and fit into those jeans you have hidden in your closet.  You wanted to take a class or work on a degree to move you towards that new job or your next promotion.You vowed to block off time each day to write that book that has been stirring inside you all these years. Whatever goals you set, it is time to pause and admire the view. What have you accomplished towards your goal? No matter how big or how small the accomplishment, stop and celebrate. Your season is in bloom.
Now I know there are some of you who are looking at your list and thinking you have nothing to applaud. Instead of losing weight, you ended up gaining a few lbs (that's me!). Two weeks into that class you decided it was too hard and took up too much time so you withdrew. And the time you set aside to write the book, well about 30 minutes in a really good movie came on and ruined your concentration. It is OK!! I want you to celebrate what you actually did. You didn't lose weight, but you worked out and guess what – that extra weight is in muscle. What!?!? You withdrew from that class but you made time for something that was even more important like quality time with family. You didn't get a single chapter written but your outline is the start of something big. Whatever you did, celebrate it. Take time to admire the view!