01 Mar

Focus on Organization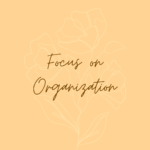 Now that we have established our goals for the year, it is important to focus on organization.  Organization allows us to put things in order and to reduce chaos so we can more fully direct our attention on the steps needed to implement our plans. Below are four tips to consider when organizing items across your home:
Take inventory – the first step is to see exactly what all you have. For example, if you are organizing your books, look at all the books you have and divide them into categories. Go through and see where you have duplicates or items that you no longer need or want.
Find a destination – The second step is to find a destination for your items. Using the book example, decide which books you will keep, which you will donate and which you will throw away.  Out of the ones you will keep, where will you put them? Will they be displayed across multiple bookcases, be kept on a nightstand, or just put into storage?
Order – now that you have identified which items you are keeping, place them in the designated destination, but place them in some sort of order. Order is based on your preference and what may be visually appealing.  You can place items in order by height, by color, by topic, by type, etc. Do whatever works for you.  For example, you may want to place all biography books together on one shelf and place them in order by height.
Maintain and Enjoy  – You did it! Once you are done, sit back and enjoy. You may choose to adjust some things after a few days or weeks and that is ok. The whole point of this is to declutter and organize in a way that is easy to maintain and will make things easier for you.