08 Dec

Advent Series – Peace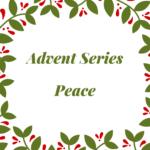 Peace I leave with you; my peace I give to you. John 14:27
In Isaiah 9:6, Isaiah prophesied that "unto us a child is born, a son is given; and the government shall be on his shoulder and his name shall be called Wonderful Counselor, Mighty God, Everlasting Father, Prince of Peace." Before Jesus was even born, His name was synonymous with peace. It is only fitting then that during His ministry He would refer to that same peace as an assurance to His disciples upon His departure.
In John 14:27 Jesus promises His disciples two things regarding peace:
He will leave it with them
He will give it to them
At first glance these may appear out of order. You would expect someone to give something to someone first and then leave it with them after it has been given. It appears though that the two phrases are implying slightly different, yet complementary things. On the one hand, He knew that He would be departing soon and He wanted to leave with them the same peace that they experienced while He was with them in the flesh. We know from surrounding scripture that He also assured them that He would send the Holy Spirit to be a Comforter; another source of peace. On the other hand, He mentioned that He would give them His peace as a way of assuring them that it is something that will not be taken away.  You can leave something with someone with the intent of returning to retrieve it.  In this case, Jesus was leaving it and He was giving it to them. No matter what they faced in the world they would always have His peace with them as His departing gift.
This Advent season, may we be grateful not only for the birth of the Prince of Peace but also for the peace He gives to each one of us. His
peace is truly beyond understanding. His peace is a Perfect Peace.