01 Dec

Advent Series – Hope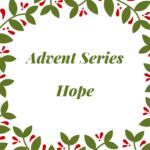 May the God of hope fill you with all joy and peace as you trust in Him, so that you may overflow with hope by the power of the Holy Spirit. Rom 15:13
Advent is here. It is a season of hope and expectation. A time when we celebrate the birth of Jesus and a season when we wait in great anticipation for His coming. The four themes of Advent are hope, peace, joy and love. This week I would like to focus on hope.
As the above verse so simply states, God is a God of hope. He is who we put our trust in and He is the One who grants us pure joy and true peace. If we wait on the Lord and place our hope in Him, He will renew our strength (Isaiah 40:31). One of the ways we can celebrate this Christmas season is to reflect on the hope we have in the Lord. What are you waiting for? What prayers are you seeking answers for?
The second part of the verse tells us that God not only gives us joy and peace but also the power of the Holy Spirit that causes an overflow of hope. Overflow implies that there is more than enough. Imagine a cup being filled with water. When it overflows, the water spills over the top and it spreads. This Advent season I pray that your hope will overflow and that it will spread far and wide. May you embrace the God of hope and bask in the peace that only He can provide.