26 Nov

7 Things I Am Grateful For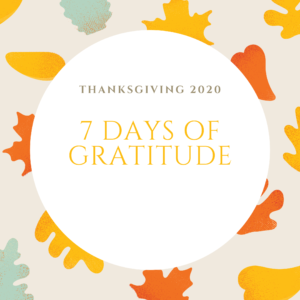 This past week, I shared my 7 days of gratitude on Instagram.  If you missed it, I am sharing it below.  What are you grateful for?
I am grateful for…
You – I have met some amazing people on social media.  People that have encouraged me, motivated me and made me smile.
Health – I am thankful for physical, mental and emotional health. In the midst of a pandemic and all that is going on, we cannot take health for granted.
Family – Thankful for family, close and extended. We cannot choose our family but we can choose how we treat one another and how we show love. So grateful for my family that always show me unconditional love and support.
Life – I celebrated my birthday this week! I have been so blessed and I cannot thank God enough for all He has done for me over the years.  Look forward to seeing all that He will do in the years to come.
Friends – Grateful for old and new friends. They have made me laugh, listened to my complaints and have encouraged me along the way.
God's Love – Thankful for God's love, grace, mercy, faithfulness, and forgiveness.  I can go on and on. So happy that I am a child of God.
Peace – Grateful for peace that surpasses all understanding. In the midst of a crazy, unpredictable year I am so glad that we can still have peace through it all because we know that God is in control.