03 Nov

The Power of NOT Being Seen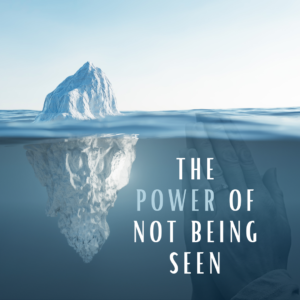 I am excited to feature this guest post from coach, author, blogger and speaker, Latasha Strachan! I know you will be blessed by this powerful message. 
The Power of Not Being Seen by Latasha Strachan www.latashastrachan.com
There are times when I really want to be seen. I want to be heard, significantly. I want to be acknowledged, finally. I want to be noticed for the good I've done and the wonderful words I string together from time to time. I want to feel the warmth of admirers' gazes and let a small wave of pride flow through me – just a small one though – nothing too big, nothing that I would feel guilty about. Yes. I want that sometimes. They say confession is good for the soul, and so too is the word of God.
Matthew 5:15-16 comes to mind whenever I wrestle with this desire, this longing for top billing.
"Neither do people light a lamp and put it under a bowl. Instead they put it on its stand, and it gives light to everyone in the house. In the same way, let your light shine before others, that they may see your good deeds and glorify your Father in heaven." (NIV)
Here is this bold and magnificent call to be set apart, distinct. We need to answer this call. It's not just my imagination, God wants us to be seen. He wants us to shine.
What happens is that the groundswell of attention lifts us up to heights before unknown, and to realms where glory and honor are given to us instead of to God. And we like it. No, we love it, but nonetheless we mouth, "Glory be to God".
Have you ever considered that there is great power in being unseen? Have you fathomed that the power that comes from knowing your life is more valuable than the number of people that get to see how you live it? Your life is valuable because God himself comes alive in you for just the right person, at the right time, and in that holy moment He is seen.
I've come to realize that my best work and my finest words may never get typed on this keyboard. They may never make it into a journal or a book. They are likely to come out over coffee with a young single woman trying to find her way in life and love. They are likely to come forth when my children lie in bed with me and graciously allow me into their tween worlds for just a second. My husband reminds me now and again of some kind or wise word that helped him through the day, long after I had forgotten the words or the occasion. No crowds will gather to see my very best work, and in this age, that comes with a measure of pain. It is the pain of a carnal and prideful human being. It is the pain of dying to myself so that Christ might live in me.
God isn't ghostwriting our lives. He's not living in the shadows while we sign autographs and take credit. He is speaking through us, and if we can find a way to be okay with not being seen, He will be surely seen, and that is the miraculous power that works within us.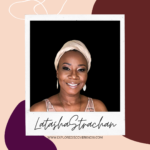 Latasha is a talented writer and speaker. She has recently published "The Little Project: Little Changes That Will Change Your Life", now available exclusively on Amazon Kindle. She has been blogging about Christian faith and spirituality for several years. Her writing can be found on her current website as well as at Caribbean Woman of Faith  www.cbnfaithwomen.com  and The Journey www.journey242.com.