02 Jun

Enough is Enough…Again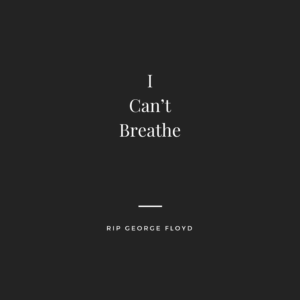 "It's ok not to be ok and right now I am not ok." I saw this quote on social media and it summarizes exactly how I have been feeling. Watching George Floyd take his last breath as an officer's knee pressed into his neck was unbearable to watch and utterly difficult to comprehend. Even more unfathomable was watching other police officers press the life out of his body or idly stand by watching but not interfering. Just so we are perfectly clear, what we saw on that video was nothing short of pure evil.
I have been struggling with what to say; how to make sense of all that has happened. I wanted to write a post that would provide some semblance of comfort and encouragement during this time, but this time I simply can't. I have felt this too many times before. In 2016, I wrote a post titled, "Enough is Enough," shortly after the deaths of Philando Castile and Alton Sterling. At that time, I shared a poem I wrote titled, "Black Man Down." The story has not changed. The same story has been written repeatedly over the past four years…over the past 400 years. And while I wrote the poem about black men, let's not forget the cases of black women such as Sandra Bland and Breonna Taylor. Systemic racism must stop. Enough is enough.