12 May

Tips to Help Navigate Difficult Times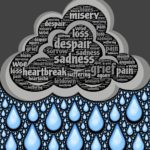 Peace I leave with you; my peace I give to you. Not as the world gives do I give to you. Let not your hearts be troubled, neither let them be afraid. John 14:27 ESV
In the midst of chaos and uncertainty it is easy to feel anxious and overwhelmed. It can take its toll on our mental and emotional health.  Jesus told His disciples that the peace He gives is not as the world gives.  His peace is a peace that surpasses our understanding (Philippians 4:7). When things are crazy and it seems like all is out of our control, we need to learn how to tap into God's peace.
Be still – Take time each day to be still and to know that He is God (Psalm 46:10). Find 5, 10, 15 minutes or more to just sit alone in silence.  Breathe deeply. Feel the presence of the Holy Spirit. Meditate on the Word. Just a few minutes a day can totally change your mindset.
Talk to God – I know we have all been talking and communicating with one another via texts, phone calls, Zoom calls, and social media but have we taken time to talk to God? God wants to hear from us. He wants to hear about our frustrations, our fears, our concerns.  He wants to commune with us; to have a relationship with us.  Take a few minutes and "have a little talk with Jesus."
Encourage yourself in the Word – As Christians, we have the ultimate life manual that contains words of wisdom and encouragement for every occasion.
Afraid? Read Joshua 10:25 that says "do not be afraid or dismayed; be strong and courageous."
Feeling sick? Read Jeremiah 30:17 where the Lord declares "I will restore you to health and heal your wounds."
Struggling financially? Read Philippians 4:19 which reminds us that " God will supply every need according to His riches in glory in Christ Jesus."
Dealing with uncertainty? Read Romans 8:28 that says "we know that all things work together for good to them that love God, to them who are called according to His purpose."
These are just a few tips to help navigate these challenging times. Hang in there! We are all in this together.