03 Feb

Entrusted Women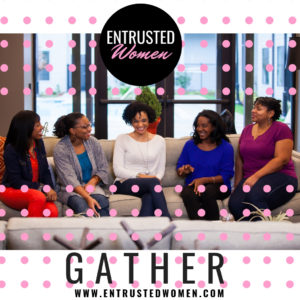 ***So excited to share this guest post from Kia Stephens of Entrusted Women!  Check it out and for more information be sure to visit www.entrustedwomen.com***

Just for a moment, close your eyes and imagine yourself fully engaged in your God given purpose. 
What did you see? 
Were you speaking or leading in some capacity? 
Were you writing books or engaging the culture? 
How might your life look differently if you became the woman that you saw when you closed your eyes? 
That was me 5 years ago.  I was an elementary classroom teacher who envisioned herself as a writer and a speaker.  I had no clear path to follow, all of my training had been in education, and yet I knew I wanted to speak and write.  After much deliberation and the encouragement of a close friend, I started a blog. 
Blogging for me felt synonymous with walking down a major street buck naked:  it was so vulnerable, so transparent, and so permanent. Despite the initial shock of sharing my writing with the world I discovered how invigorating it was to do so and I continued.  
I wrote and looked for opportunities to develop my craft.  This meant investing in conferences, memberships, and speaking and writing groups.  I began to notice a lack of minority representation in these writing and speaking circles.  As a result, a deep sense of longing for community with Christian women communicators of color began to develop.
In January of 2016 I started the Entrusted Women Facebook Group to address this need.  I discovered that while I was longing for a specific type of community, other women were longing for it too.  What began as a Facebook group has become a movement. In less than two years Entrusted Women has partnered with Christianity Today, Waterbrook Multnomah, Zondervan, Proverbs 31 Ministries, Be The Bridge, Credo Communications and Grace Hill Media to strategically launch books, provide content marketing and exposure for Christian women communicators of color. 
I, along with the Entrusted Women community, are working to create and increase opportunities for Christian women communicators of color.  We hosted an amazing retreat last year and I am looking forward to our upcoming conference June 26th – 27th at the Embassy Suites Atlanta Perimeter.  Together we are increasing and creating opportunities for Christian women communicators of color. We are becoming a catalyst for a diverse representation of Christian women of color being published traditionally and presenting at Christian Conferences and I want you to join us. 
Think back to how you imagined yourself at the beginning of this article.  Your life, just like mine, can change in 5 years. Entrusted Women wants to partner with you to make the woman you envisioned a reality.  For more information, visit our website at www.entrustedwomen.com.