21 Jul

Signed, Sealed, Delivered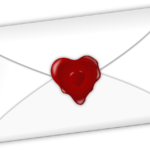 The phrase "signed, sealed, delivered" historically refers to a legal agreement, typically a legal deed. To execute the agreement, the deed was signed by the seller, secured with a wax seal and then delivered to the buyer. While still a legal term, its use today is most often a statement simply meaning that the deal is done. Similarly, our relationship with God is a divine covenant. When Jesus died on the cross for our sins He signed the contract, sealed it with His blood and delivered the deed to an eternal home to all who would accept and believe.
Now, the nature of an agreement or covenant is that it works both ways. The seller signs, seals and delivers the goods, but the buyer gives something in return to secure the purchase. In this case, Jesus not only signed, sealed and delivered, but He also paid the price with His life. With that said, we do have a part to play in the agreement. Scripture says that if we declare with our mouths that "Jesus is Lord," and believe in our hearts that God raised Him from the dead, we will be saved (Rom 10:9). When we make a decision to accept Jesus as our Lord and Savior we are signing the agreement. When we give up our old lives for a new life in Christ, we are sealing the deal. When we totally and completely give ourselves to God, we are delivering the deed to our hearts and inviting the Holy Spirit to reside in us.
Today, make a decision or renew your decision to commit to Jesus. In the words of Stevie Wonder tell Him,
"Signed, Sealed, Delivered, I'm Yours!"