23 Jun

It's Time To Graduate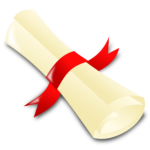 Another graduation season has come and gone. Families and friends everywhere have celebrated the achievements of their loved ones. Whether it be from high school, college or even kindergarten, each graduate has done the work to move to the next level. They have studied the required materials, endured and passed tests to exhibit their knowledge and overcame numerous hurdles to rise to the top.
There are other areas of our lives where we should be "graduating" as well. On our jobs we seek promotion and advancement. In a significant relationship, we move from girlfriend/boyfriend to fiancé to spouse. Just like we advance in these areas, we should be moving forward in our spiritual lives over time.
If we are still reciting the same verses, saying the same prayers, or dealing with the same challenges, we have not graduated in our spiritual walk. If we have not moved from merely reading and talking about God to an actual relationship with God then we have not progressed to the next spiritual level. If we are still looking to only be taught and fed the Word of God and not been studying it for ourselves and sharing it with others we have not advanced.
In Hebrews 5:11-16, we find the writer confronting the people about this very issue. He tells them that by that time, they should all have been teachers of the Word, but instead they were still needing someone to teach them the basic, elementary truths of God. They were still drinking milk like babies and had not yet progressed to solid food. In other words, it was time for them to graduate; to move to the next stage in their Christian walk.
Take a few moments to think about where you are right now compared to where you were. Have you moved to solid food? Have you graduated or are you still at the elementary stage? God wants to hand us our diplomas, but He is waiting for us to do the work to rise to the next level.